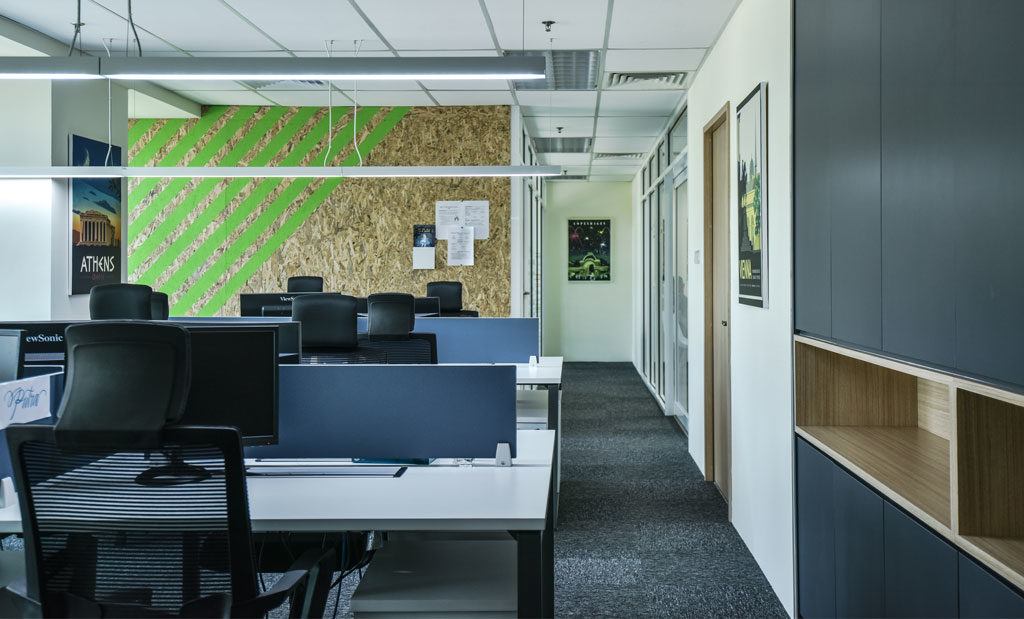 1st quarter of 2020 has ended, and covid-19 has since then changed our lives. We have started to used to work from home, and business scene is making a big shift to digitalization. What our clients are thinking next is how to get their workspace prepare when the pandemic abates.
At the end of the day, employees still prefer to work in well-designed environment. After we have done our research, study & considering advice from World Health Organization (WHO) & ergonomic studies, it is still too early for us to evaluate the new habits and skills that we are developing while working together from home. However, it's not too soon to plan how we can return thousands of people to their workplace as soon as the MRO end.
Here's some action that businesses can take immediately after MRO.
1. Stay away
The 6ft/1.8m distance rule advised by WHO should apply in physical working environment except if employees are wearing face masks or up until COVID-19 vaccine is available and the virus will cause no harm to employees anymore. During the interval, companies should clear away extra chairs in conference rooms with more than 10 seats. Space them out from collaboration area by applying 6ft rules for their safety. Apart from that, encourage people to collaborative virtually whenever possible
2. Reduce workstations density
It can be quite a task where the workspace is tight, for example open space like canteen layouts. In circumstances where work desks separating is under 6 feet, do think about making a buffer by using every alternate tables available. This could be done by allowing some employees to work from home or shifting them to other location for short-term. Do consider adding on divider for sit/stand desks that attached to the computer screen and move along together with it. The best scenario is not to have them facing each other, and preferably prevent individuals standing within 6 ft diameter from another who's seated.
3. Reconsider unassigned sitting.
After coming back to the workspace, consider delegating what were once in the past common work areas to people for an entire day or a week, and afterward ensure they are sanitized before the next person uses the space.
4. Restrict sharing equipment
To prevent disease from spreading, it's best to provide technology and accessories (such as a mouse, keyboard, or headset) to everyone. There devices are touched throughout the day and are best not shared without cleaning between works.
5. Strengthen cleaning procedures
Our staffs rely on a secure and hygienic workplace. Not only for workstation, but also other places like meeting rooms, collaborative space, pantry, reception area and other common areas should carry out strong cleaning protocols with professional at routine basis all through the day. Companies ought to give antiseptic wipes and hand sanitizers all through the workplace – and particularly in shared zones. If laborers keep up a perfect and neat work area, the professional cleaner's job can only be done better.
6. Upgrade air filtration systems
Air is a shared resource we breathe, so put resources into air-purifying systems to protect shared environments. Think About investing in advance air purification and sanitization systems or HVAC. Countless of these systems show immediate air quality measurements on display to keep employees updated, and it will serve as a constant sanitiser, enhancing air quality by lowering air borne and surface pollutants like viruses, bacteria, germs, VOCs, smoke and other allergens.
7. Strengthen hygiene practices
Emphasize good hygiene practices by purchasing antiviral cleaning supplies as well as well-equipped restrooms that have touchless soap dispenser and water tap. Companies should also consider disinfecting major contact point such as door handles, shared spaces. Furthermore, installing No-touch dispensers with sanitizer with alcohol ranging from 60-95% near entrance and lobbies.
8. Blending antimicrobial materials into your environment
Antimicrobial technology has been widely integrated into building materials lately including paint, faucets, flooring and door hardware. Consider including these materials, especially in office entrance, reception area, and shared common facilities. Getting coatings that disinfect surface could shield them from bacteria.
9. Empower your people
Think about how your employees will feel when they get ready to return to the workspace. Instead of requiring that everyone come back at the same time, consider giving the option for people to come back in batches. Not only that this would provide the necessary social distancing, yet it would likewise permit representatives a more noteworthy feeling of authority over their wellbeing.
10. Be open to new approaches for working
The more we work from home en masse, the more new patterns and better approaches for working will start to come to fruition. We will have found various approaches to work virtually together, which may almost certainly proceed with when we come back to the workplace. Work processes and correspondence may improve. We should grasp these progressions and let them thrive.
When the covid-19 pandemic ends, we may all have different perspective towards the world. Not only as a person, but also a major shift on how we work in future & even how workspace is design. Be that as it may, good working environment still matters despite everything else. Building meaningful relationship, healthy corporate culture & foster community with colleagues is still what office is all about.
For any media inquiries, please contact This email address is being protected from spambots. You need JavaScript enabled to view it..